Tips for Healthy Teeth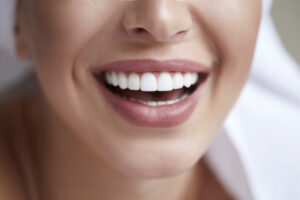 Caring for Your Teeth
Properly caring for your teeth is extremely important for your dental and oral health. There are simple steps to include in your daily oral hygiene routine to improve the health and look of your teeth and gums. Below are 5 steps you can take to improve your dental health and properly care for your teeth. 
Brush Thoroughly With Fluoride Toothpaste 
It is important that you brush your teeth thoroughly at least twice a day to rid your teeth of plaque and bacteria. You should brush your teeth for at least 2 minutes, brushing in circular motions. You should also use a toothpaste with fluoride to strengthen your enamel and prevent tooth decay. 
Floss 
Many people tend to leave flossing out of their daily routine, however, it is very important for your oral health. Flossing can help prevent tooth decay and gum disease by removing plaque between the teeth. Flossing can also prevent cavities. 
Don't Smoke 
Smoking can not only discolor your teeth and cause bad breath, but it can cause gum disease and tooth loss. Smoking can also lead to oral cancer. 
Avoid Sugary Foods 
Eating or drinking things high in sugar often can cause cavities and tooth decay. Enjoy sweets only in moderation and be sure to brush your teeth after enjoying them! 
Go to the Dentist 
You should go to the dentist every 6 months for a check-up and cleaning to maintain your dental health. You should also always go to the dentist whenever you are having tooth pain, notice a cavity, or are dealing with other oral issues to protect your dental health. 
If you are due for a cleaning or are having other dental troubles, visit The Smile Zone! Our dentist office cares for patients throughout the Albany, NY area. We make it our goal to ease your dental fear and anxiety, making your visit as stress-free as possible. Call us today to make an appointment.